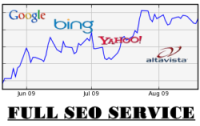 Our full SEO Services Package was created to offer online businesses quality website SEO services that will give them top SEO keyword placement for maximum website visitors potential at an affordable price.
We first start with a full website and industry analysis which will let us know which keywords best suit your industry and how to achieve first page SEO results for the chosen keywords.
Once the SEO website analysis is completed, we will go over your options and you can decide which would best suit your company´s needs.
We will then implement the SEO action plan until the goals are achieved.
The full SEO Services Package includes but is not limited to:
SEO Website Analysis
SEO Keyword Research
SEO Action Plan and Implementations
On-Site and Off-Site SEO
First Page Search Engine Ranking for up to 10 of the most popular keywords in your industry
Website Redesign for Optimum SEO Results
SEO Landing Page(s) Creation
Meta Tags Configuration for your SEO Targeted Website Pages
SEO result time frames will vary depending on the target keyword popularity and competition.
Result Time Frame will range from 1 month for easy keywords to 12 months for very competitive keywords.
See our Keyword Rating Guide to see how we rate keywords and the time period expected for First Page Search Engine result.
Take a look at our most SEO Services Popular Packages according to price:
The Economy SEO plan allows you to target up to 5 industry related keywords.Where 3 of those keywords will show your website in the top 10 position on Google.

keyword research included

Cost: $500 USD Per Month

Our Luxury SEO Package is designed to give you maximum traffic to your website.You get to choose 7 keywords and 5 of those keywords will show your website in the top 10 Google search engine result position.

Cost: $1,000 USD per Month
The cost for the Full Quality SEO Services Package will be between $300.00 USD to $4,000.00 USD per month depending on your website, industry and competition.

If you are interested in our Full Quality SEO Services Package, please fill out our Online Marketing Services Request Form
or
go to our Contact Us Page for Contact options.