Thanks to the internet, a company is able to market its product or service for a relatively low price in comparison to traditional advertising.
Online marketing service is fast becoming the media of choice for companies that are looking for relatively easy, cost efficient and effective marketing media.
The trick to market your product/service almost for free is to take time to look for new places to advertise your product as well as dedicate yourself to make these new advertising venues work for you.
Here are some of the best ways to advertise your services at a low cost if you are willing to personally put in the time and effort.
Facebook Social Media Marketing
Facebook is probably the cheapest way to market your product or services however, cheapest does not mean easiest as a lot of work is involved in making your product stand out on Facebook. Here are some examples on how to do some social media marketing on Facebook:
Create a Facebook Fan Page, write a lot in it to make it popular and get all of your friends to like it
Look for and use Facebook Apps like," Facebook Marketplace" which allows you to publish classified ads to a network of over million users or like "Sweepstake" which allows you to create sweepstakes on Facebook.
LinkedIn
This business social media website is a great source for business contact that can help market your product if it is done correctly. The trick to it is to be an active member of the community by taking part in the many groups that are available to join.
APSense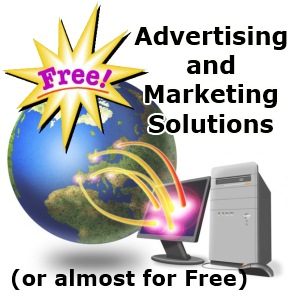 APSense.com is a business social media website that has the same agenda as LinkedIn but in a totally different way. This one is not as popular as LinkedIn but it does give you more options for advertising your product and services on their website.
When done correctly, you can reach millions of users by simply following their "Daily Mission" as well as writing articles and creating "Rev Pages" which are basically big ads for your business.
One of the nice advantages of APsense is that Google seems to place importance on the articles you publish on that site.
Craigslist and Classified Ads
They are over 5,000 classified ads websites on the internet and that is 5,000 places where you can advertise your product for free.
Of course, some places like Craigslist and even E-Bay but it does not mean that you should take the other classified ads websites for granted as it only takes a few minutes to place an ad on anyone of these websites.
Forums
Forums can be a great way to advertise your product for free if you are on the right forum and do it correctly. The general strategy is as follow:
Only use forums that have a lot of traffic
Only post in forum threads that relate to your product or service
Look for forum threads that have an actual Google Page Ranking to post in to get a good quality back link from your signature.  Here is an example, http://community.brandrepublic.com/forums/t/5597.aspx as this thread has a Google PR ranking of 4.
Make sure your signature contains your product/service tagline and link
Don't spam, offer advice and become an expert in your field and overtime, it will pay off.
In the next installment of "10 Ways to Market Your Product Almost for Free" we will finish up the list which contains other great ways to use internet resources to market your product or services almost for free.
---
Fred St. John is an internet marketing consultant with over 10 years of marketing and website design services experience and has worked for some of the top Fortune 500 companies in the world. You can contact him at fred@blindmonkeymedia.com